Create, manage, and delete permission profiles within the Purple portal. Permission profiles should be set up prior to users. Users explicitly use permission profiles to determine the user's permissions at company level and below. Users at reseller level and above have full access and do not require permission profiles. If a user is not assigned to a permission profile at company level, for example, if the profile is deleted or the user is removed from a profile, the default permissions are set to denied for everything. If a user has the default permissions you must add the user to a permission profile to explicitly grant access.
To access this click Management > Permission profiles.
If you have upgraded from a previous version of the portal you may have some profiles which appear within the Legacy tab, this is due to a mismatch in users permissions and profile permissions, for more information about how to convert a legacy profile to a permission profile, refer to Legacy Profiles.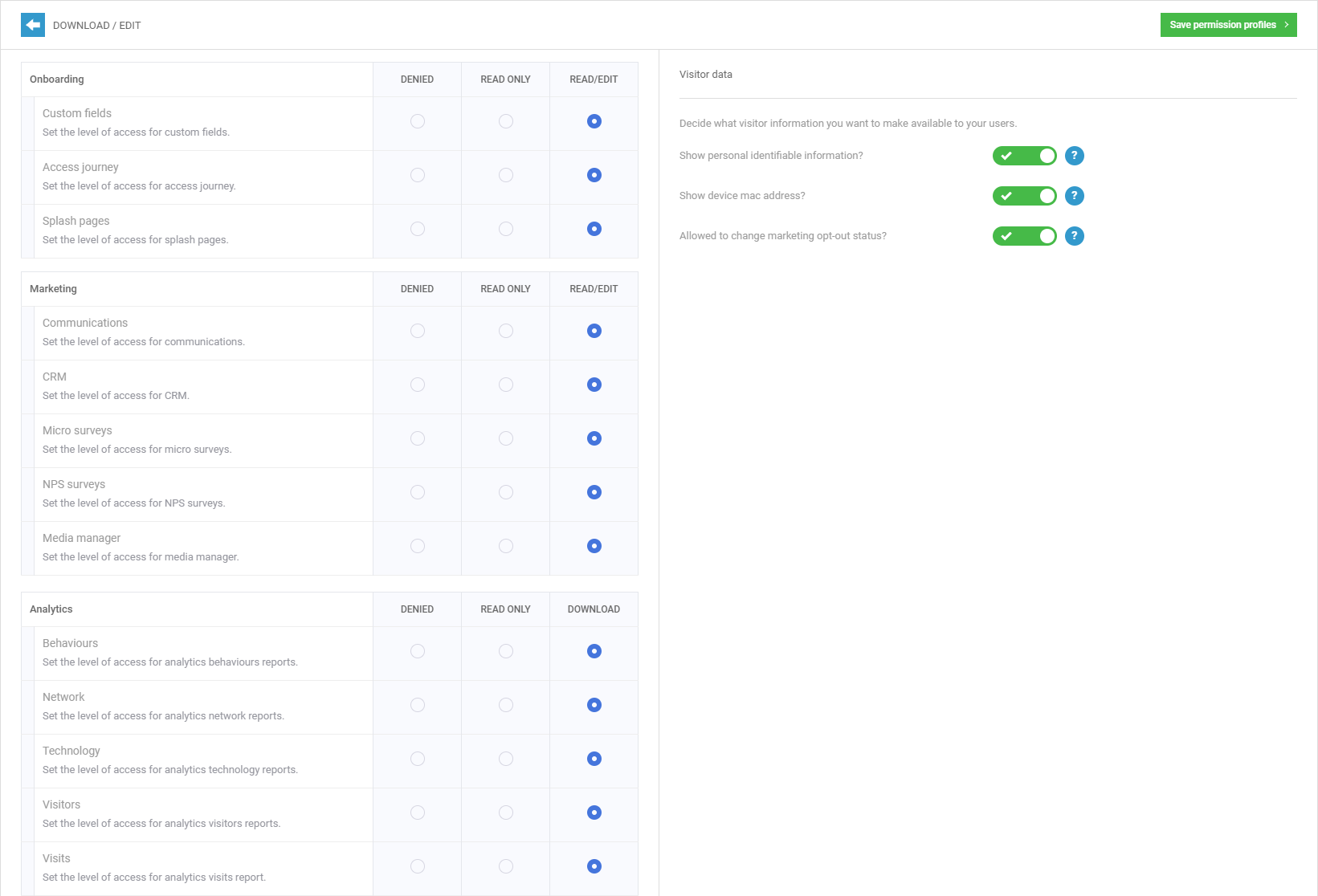 New Permission Profile
Within Management > Permission profiles click Create new profile.

Select the level of access for each area of the portal.

Denied - No access.

Read Only - User can access but cannot make any changes.

Read/Edit - User can access and make changes.

Download - This is on reports only, user can download a PDF copy of the report.

Within Visitor data, select the options the user has access to from the following:

| | |
| --- | --- |
| Show personal identifiable information | The user can view personal information about your visitors, for example, name, email address, mobile number and profile image. |
| Show device mac address | The user can view the MAC address of the visitor's devices when in the CRM section of the portal. |
| Allowed to change marketing opt-out status | Users can change the marketing status of WiFi users to opt-out. |

Click Save as new profile, enter a name and click OK.
View your Permissions
To view your own user permissions, select the user icon, select My account and within Account information select View my account permissions.