Custom HTML emails allow you to create and send custom HTML emails directly from within the portal. They give you greater flexibility, customization and personalization of customer communications.
You can also include third party tracking tags so you can better understand the success of email campaigns.
New Custom HTML Email
Select Marketing > Communications > Create new template, and then from the Editor drop-down, select Custom HTML.

This opens the HTML editor as follows:
Merge Tags
From within the HTML editor, users insert 'Merge tags', which are dynamically populated with a unique value.
For example, placing a venue name merge tag (%%VENUE.NAME%%) inside a custom HTML email will insert the name of the venue visited.
There are currently merge tags available for venue name and visitor firstname.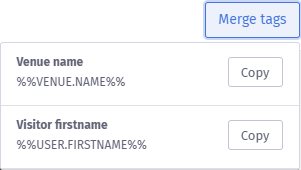 Preview
You can preview HTML emails before you send them. Please note, if the email includes merge tags, these appear as merge tags rather than the dynamically populated data.